2008 FINANCIAL CRISIS & 2009 EUROPEAN SOVEREIGN DEBT CRISIS
Resentment builds in an environment of unemployment and recession. Immigration becomes politicised once again.
POPULIST & FAR RIGHT PARTIES ON THE RISE ACROSS EUROPE
NETHERLANDS - Lijst Pim Fortuyn (LPF) Party
FRANCE - National Front Party
BRITAIN - UK Independence Party (UKIP)

THE BIG PICTURE: THE MAKING AND BREAKING OF EUROPE
Populist & Far Right parties on the rise across Europe
A poster for the UK Independence Party (UKIP) adorns the side of a building on April 13, 2010 in London, England. | PHOTO BY OLI SCARFF/GETTY IMAGES
THE NETHERLANDS: LIJST PIM FORTUYN (LPF) PARTY
The Netherlands would see the far right, anti-immigration, anti-Muslim Lijst Pim Fortuyn Party win 17 percent of the vote in its 2002 General Election.
Controversial Dutch right-wing politician Pim Fortuyn speaks to the news media after registering as an independent candidate to participate in the May 2002 elections February15, 2002 in The Hague. | PHOTO BY MICHEL PORRO/GETTY IMAGES
The assassination of its leader, Pim Fortuyn, days before the election propelled the party into the limelight and secured it a place in a coalition government. But like the FPO in Austria, the LPF would fail to consolidate the ground Pim Fortuyn had helped it gain.
"Across Western Europe, you start to see a new form of racism in the form of Islamophobia. And that happens in different European countries in different ways. In France it's very much around the veil and the kind of public debates about veiling that have been going on there. In Holland it's about a kind of perceived failure of multiculturalism that's tied to Islam … but what all of these different moments have in common across Western Europe is that again this idea of values, right? And this idea that there is a clash between these kind of alien values that non-white immigrants are bringing into the country and an idea of European values."
"What they are concerned about are social cultural issues, about identity, about Islam, about people changing their country, taking away their sovereignty. Those are issues that you can discuss when your basic issues are being dealt with so when your country is secure and when you are affluent, you can be busy on the one hand with green issues but also on the other hand with radical right issues like national identity and so that is one of the explanations why it would happen in countries like Denmark and Austria and The Netherlands later."
FRANCE: FRONT NATIONAL PARTY
"It was a trial … the trial of immigrants"
In the same year France would also go to the polls, and a familiar voice would make a historic breakthrough.
"By the time we get into the early 2000s, Jean-Marie Le Pen has reached such a point that he is able to reach the second round of the presidential election against a longstanding member of the French establishment, Jacques Chirac."
"Don't be afraid to dream, you the little people, the foot soldiers, the excluded, you the miners, the steelworkers, workers of all those industries ruined by the Euro-globalisation of Maastricht."
In the 2002 French presidential elections, Jean-Marie Le Pen had beaten the sitting socialist Prime Minister Lionel Jospin, to win a place in a two-way run-off with the incumbent President Jacques Chirac.
French far right National Front party leader Jean-Marie Le Pen address the news media April 22, 2002 at his party's headquarters in Saint-Cloud outside Paris. | PHOTO BY PASCAL LE SEGRETAIN/GETTY IMAGE
"After that, millions of French went out in the streets and decided to protest against Jean-Marie Le Pen, against his victory, even his participation in this election. And after that, people voted for Jacques Chirac, even if they were not rightist voters, and he was elected with 82 percent of voices, so … But it was not the end of the story. It was just one step in something worse."
"All means were employed to avoid that this first round did [not] result in a nationalistic victory. A general mobilisation of the establishment against the candidature of Jean-Marie Le Pen and [for] Jacques Chirac obtained over 80 percent of the votes and we got nothing. Because it was artificial."
"There were many people who didn't accept the situation of immigrants in France. The problem of security became a very important issue for French people. And once again, it was a trial … the trial of immigrants, and Jean-Marie Le Pen was the symbol of the existential crisis of the French society."
Jean-Marie Le Pen had symbolised France's existential crisis and posed as an existential threat to a European Union that, in 2004, embarked on its most ambitious enlargement.
It now included 10 new countries, eight from Central and Eastern Europe.
Expansion of the European Union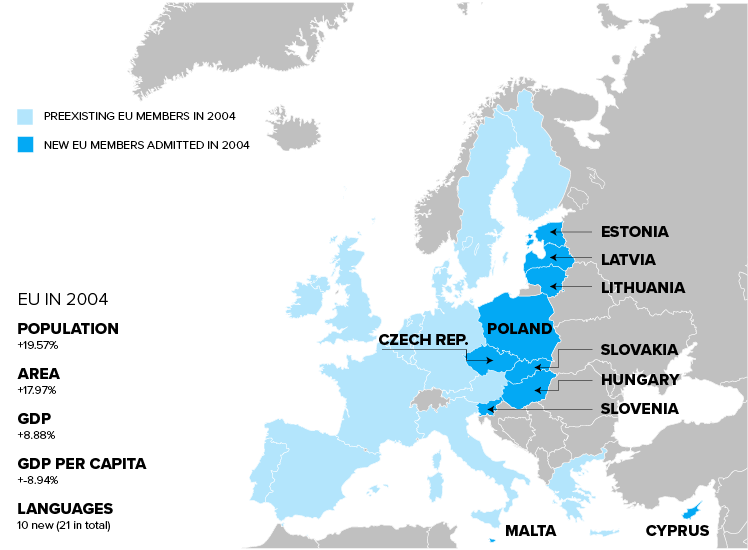 "The demand then continuously throughout that period is tougher immigration control, particularly the idea that government is too cosmopolitan, that the leaders do not really share the kind of native instincts of the ordinary people."
With more people moving from poorer European nations to richer ones in search of work, immigration, once again, was under the spotlight …
BRITAIN: UK INDEPENDENCE PARTY (UKIP)
"UKIP comes into British politics and quickly turns itself into a very serious political force"
One fringe party in Britain put itself forward to stand up for the instincts of the ordinary, native people of the UK.
In 2006, UKIP elected a new leader, Nigel Farage, a man whose accession, according to the party's founder, brought with it elements of far right support.
"The UK Independence Party, or UKIP, which essentially was a Eurosceptic party, that had been struggling in the wilderness since the 1990s, but now realises that actually, with concerns over immigration, and concerns over the EU, it could do much better. And UKIP comes into British politics and quickly turns itself into a very serious political force that becomes the third-most popular party in the country."
"When he took over the leadership he had ex National Front candidates fighting for UKIP. There's always been ex BNP National Front people involved in UKIP. There's all sorts of ex criminal types been allowed to be candidates by Farage …"
A billboard for the UKIP political party, featuring a picture of Winston Churchill, adorns the side of a house on May 28, 2009 in Bromsgrove, England. | PHOTO BY OLI SCARFF/GETTY IMAGES
2008 financial crisis & 2009 European sovereign debt crisis
Farage's UK Independence Party tried to present a veneer of respectability, as it, and the far right movement it claimed to be removed from, made inroads into Europe's political mainstream.
Protestors from the 'Occupy London Stock Exchange' demonstration continue their occupation outside St Pauls Cathedral on October 22, 2011 in London, England. | PHOTO BY DAN KITWOOD/GETTY IMAGES
"This idea that we in the north now have to pay for them in the south hit home hard"
In 2008, the financial meltdown that had begun with a credit crisis in the US, would be a catalyst for political and social unrest across Europe that give the far right a chance to rush in, where the mainstream feared to tread.
"Under the doctrine of state multiculturalism, we've encouraged different cultures to live separate lives, apart from each other and apart from the mainstream. We've even tolerated these segregated communities behaving in ways that run completely counter to our values."
"We are a country which at the beginning of the 1960s actually brought guest workers to Germany. Of course, the multicultural approach, that we live here side by side and be happy about each other, this approach has failed, utterly failed."
In Greece, the simmering financial crisis boiled over into street violence.
Pensioners line up outside a National Bank branch on July 2, 2015 in Athens, Greece. | PHOTO BY MILOS BICANSKI/GETTY IMAGES
"We saw countries like Greece taking on mass debt, going into default. We saw countries like Spain and Italy doing the same thing, Portugal as well. We started to see not a Europe united but a Europe divided."
"I had to take these very difficult measures. I knew that many of these were unjust but otherwise our country would have fallen off the brink, we would have gone bankrupt."
"That sense of blackmail and danger was what I felt daily dealing with the markets. That no matter what I said, no matter what we did, they were not responding … and we were looking at the brink of going bankrupt."
Greek Prime Minister George Papandreou committed to a bailout by the troika of the European Commission, the European Central Bank and the International Monetary Fund, that would total 130 billion euros ($139bn).
In return, Greece would be required to make drastic cuts to its public spending, reduce its budget deficit and liberalise its markets
The Greeks would pay for the money they received and the folly of a hasty integration.
"This idea that we in the north now have to pay for them in the south hit home hard. It was also the first time that we saw the so-called dark side of the euro, that our currency was now linked to the behaviour of others including people in the south about which we already have a large prejudices. The radical right directly jumped on that"
"We really see the emergence of more and more of these political parties, and not just their emergence but their ability to frame what's happening in Europe in a political agenda that benefits them."
"The perception was that this crisis was caused by too rapid of an integration on the side of the European Union, which was pushed through by the Germans specifically. Germany is the economic power of Europe today. So, and now Greece was being forced to swallow this very painful pill of austerity to save the EU. And what we really saw is growing resentment, both on the side of the rich countries like Germany and France and also on the side of the countries that needed support, the poorer European countries, like Greece, Spain, Portugal and Italy."
Supporters of ultra nationalist party Golden Dawn hold party flag and Greek flag as they demonstrate on February 1, 2014 in Athens, Greece. | PHOTO BY MILOS BICANSKI/ GETTY IMAGES
The 2012 elections in Greece saw Golden Dawn, a violent, openly fascist party claim 21 seats in the Greek parliament.
But it was a coalition government of traditional left and centre right parties that held power in Athens, and, despite widespread disdain for the EU's bailout plan, it soon set to work implementing the imposed austerity.
THE PERFECT STORM:
TERROR ATTACKS, REFUGEE CRISIS & EUROZONE CRISIS