YUGOSLAVIA: NATIONALISM UNLEASHED, EUROPE'S FIRST REFUGEE CRISIS SINCE WORLD WAR II
THE BIRTH OF THE EU & THE EUROPEAN 'SUPER STATE'
Maastricht Treaty leads to the political union of member states and the birth of the European Union (EU) in 1992.


Schengen Agreement enables free movement through the abolishment of borders between 5 of the 10 EU member states in 1995.
Euro establishes a common currency between member states in 1999.
EUROSCEPTIC PARTIES EMERGE IN PROTEST

THE BIG PICTURE: THE MAKING AND BREAKING OF EUROPE
Yugoslavia: Europe's first refugee crisis since WWII
More than two million people fled the former Yugoslavia's borders since the country begun to disintegrate. | PHOTO BY KAEL ALFORD/NEWSMAKERS
"The breakup of Yugoslavia was something that Europe hadn't anticipated and Europe wasn't ready for"
Communism had held the multi-ethnic republic of Yugoslavia together since 1945, despite it being outside of Soviet control.
But as communist rule fell, Yugoslavia fell with it.
"The road that you are choosing for Bosnia and Herzegovina is a highway to hell. Do not think that you will not take Bosnia and Herzegovina to hell and the Muslim people into extinction. Because if there is a war, the Muslim people will not be able to defend themselves."
"On the one hand it reinforced the Western images about Eastern Europe as being a powder keg of nationalism that had just been held down by communism. On the other hand that vision also kind of strengthened the idea that these countries should be integrated into the European union of peace."
Prior to the wars in Yugoslavia, the 1990 Charter of Paris had already drawn Eastern Bloc countries into the West's ideological framework.
As Europe's axis shifted, European integration was on the threshold of a historic union.
But nationalism, far from consigned to history, would threaten to pull Europe apart.
"This was the eruption of ethno-nationalist warfare on European soil."
The breakup of Yugoslavia
Refugees and displaced persons from former Yugoslavia since 1991
Stone memorial in front of the entry to the Limburg Province government building in Maastricht, commemorating the signing of the Maastricht Treaty | IMAGE: WIKIPEDIA, CREATIVE COMMONS 4.0
"The Maastricht Treaty was about the single currency … but was plainly leading towards the creation of a political entity in Europe, a European state, a European government."
The end days of communism had brought uncertainty and opportunity to Europe. Still coming to terms with the war in Yugoslavia that had left more than two million refugees in its wake, Western Europe pressed ahead with its most ambitious plan for greater integration.
By February 1992, the Maastricht Treaty made the 12 member states beholden to shared economic, social and security policies.
"The Maastricht Treaty was about the single currency and it set out the pathway towards the creation of the euro and the steps that had to be taken to create the euro. But Maastricht overall was plainly leading towards the creation of a political entity in Europe, a European state, a European government."
MAASTRICHT TREATY - POLITICAL UNION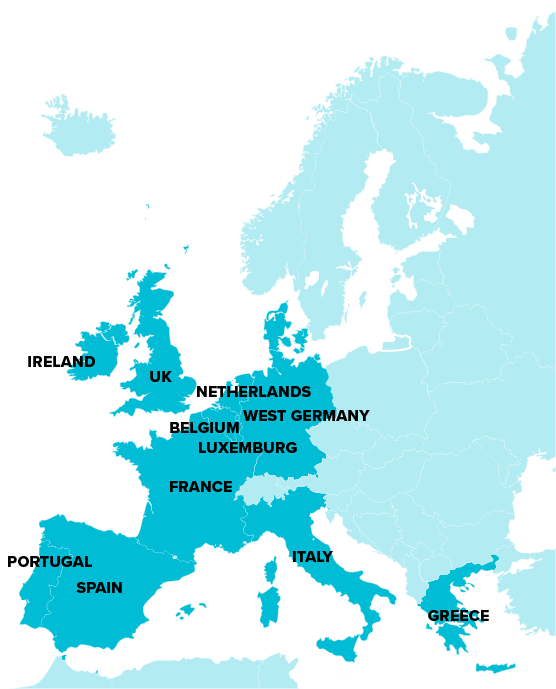 "The Maastricht Treaty was proof for nationalists who were on the far right that the EU was really just a project of building a super national state and that transformed that completely. It also made in certain countries European integration more of a theme, which meant that there was something to talk about and the radical right had the advantage of being the only one who was critical about it."
"There are over a dozen EU institutions, bureaucratic institutions, that most people didn't even know, mostly people and your average voter, didn't even know were being erected. You know, they didn't know that when they voted to ratify the Maastricht Treaty that you would have the emergence of this state-like bureaucracy in Brussels."
It would also pave the way for a common currency – the euro.
On January 4, 1999, the euro is established in 11 of the 15 EU member states and begins trading at $1.1747, hitting a high of $1.1906 on the same day.
Britain, Sweden and Denmark stay out of the single currency and Greece is initially excluded because of its weak economy.
SCHENGEN AGREEMENT - FREE MOVEMENT
By 1995, the Schengen Area allowed people from EU member states free movement across countries.
But freedom of movement would not be freely available to all.
A disused customs control point in Brunehaut, Belgium. The Schengen Agreement, which led to the creation of Europe's borderless Schengen Area, was signed on 14 June 1985. | PHOTO BY CHRISTOPHER FURLONG/GETTY IMAGES
The political and economic strings of Europe were being pulled from the EU headquarters in Brussels.
The gap between governance and the governed, was getting ever greater.
"To travel you have to have funds and resources, right? If you want to take your nice holiday in Paris or southern France but maybe you live in Hungary and you don't make very much money, how are you going to take that holiday? What is the EU really getting you, right? But for those people who spoke multiple languages, who could work anywhere because they spoke English, French and German, because they had the resources, the education, they benefitted greatly from the EU."
"Suddenly you have all of these rules you have to follow, standards you have to meet, where maybe your family has been farming for centuries and has never changed anything and now some bureaucrat in Brussels is telling you that your farming practices are wrong and you have to invest into upgrading and that costs a lot of money. Many of the processes of EU economic and political integration were happening in sort of, now I wouldn't say the word hidden, but they were unseen by your average European."
Eurosceptic parties emerge in protest
Joerg Haider, governor of the Austrian state of Carinthia and former leader of the Austrian right-wing Freedom Party. | PHOTO BY SEAN GALLUP/GETTY IMAGES
By 1999, a spate of newly established or newly invigorated populist-nationalist parties began to emerge.
The True Finns in Finland, the Sweden Democrats and the Danish People's Party were all, to some degree, vehicles for anti-EU sentiment.
France's National Front refocused its own nationalist manifesto against the supranational union, while in Britain, the UK Independence Party would begin to campaign to get Britain out of Europe.
But at the dawn of a new millennium, Austria had shown that after half a century of being held in check, nationalism was rising through Europe, and taking a new form.
"The EU imposes diplomatic sanctions on Austria and says, I'm afraid until you can prove this party endorses the values of Europe, rights for minorities and equality for all, you know, we will not be removing those sanctions."
FAR RIGHT GAINS A FOOTHOLD
WHILE THE EUROZONE GOES INTO CRISIS