What living
in space
does to your body
A spotlight on the physical effects of living in space and time required for recovery from its negative impact.
On June 18, three ISS astronauts are completing their six-month mission in low orbit and returning to Earth. As the ISS Expedition 47 is terminating, Al Jazeera breaks down the physical effects of living in space on human bodies.
Each individual body part suffers from the conditions in space to varying degrees. As the duration of stay increases, the damage becomes more difficult to completely erase.
HOURS EVERY DAY,
6 DAYS A WEEK.
Seriously affected
Owing to microgravity in low orbit, muscle atrophy is almost imminent. Even just after a two-week shuttle mission, astronauts lose about a quarter of their aerobic capacity. To prevent dramatic loss they have to take medical supplements and be on a strict exercise schedule.
The British astronaut in the trio, Tim Peake, has this year become the first person to finish a marathon while strapped on a treadmill.
Heavily affected
Skeletal deformation and bone loss (also known as spaceflight osteopenia) is one of the most serious health blows for astronauts. They lose more than 1 percent of their bone mass every month, and the effects increase exponentially. To put this into perspective, the same happens to an elderly person in a year.
Astronauts also become taller as their spines expand while in orbit. They might gain up to five centimetres during a mission.
OF THEIR BONE MASS
IN A SIX-MONTH MISSION.
Seriously affected
Microgravity deforms the eyeballs, and eyesight becomes poorer. For that reason, NASA is keeping glasses in the ISS.
Also, owing to the high exposure to radiation, their eyes are more likely to develop cataracts.
THEIR OPTIC NERVES
ARE BEING
OWING TO THE CHANGE
IN COMPOSITION
OF BODY FLUIDS.
Seriously affected
The immune system weakens as cell-mediated immunity becomes depressed, and its functional characteristics alter in microgravity.
The high exposure to radiation makes astronauts severely susceptible to increased risk of cancer, nervous system problems and degenerative diseases.
SIX MONTHS IN SPACE MEANS
MORE RADIATION EXPOSURE 
AS THAT OF THE
ANNUAL DOSE ON EARTH.
Heavily affected
The blood circulation slows down and production of red blood cells decreases.
Cardiac arrhythmia is also a widespread phenomenon. Decreased vascular function may reduce the oxygen required for the muscles to function properly.
ONCE THEY RETURN TO EARTH,
THEY ARE UNABLE TO STAND UNASSISTED FOR MORE THAN
AT A TIME WITHOUT FAINTING.
Somewhat affected
Skin becomes thinner and prone to cuts, infection and tearing.
When cut in space, it takes longer to heal than on Earth.
IN SPACE, THE SENSE OF TASTE
CHANGES AND THE
OF SOME FOODS TRIGGERS
THE GAG REFLEX.
Seriously affected
In low orbit the fluid distribution of an astronaut's body shifts dramatically. Human bodies are made up around 60 percent water and much of it intravascular and intercellular. Owing to microgravity, the trio have lost about 20 of their body fluid, most of it being their blood volume.
Somewhat affected
Astronauts also lose their body mass dramatically. The rate is usually about 5 percent.
Mildly affected
Excess flatulence is a common occurrence in spaceflights. Also, their bodies are prone to developing kidney stones owing to dehydration and increased excretion of calcium.
THE REDISTRIBUTION
OF BODY FLUIDS CAUSE
Psychosomatic
& cognitive effects
Heavily affected
Longer exposure to radiation may harm the brain permanently and accelerate the onset of Alzheimer's disease.
Somewhat affected
When in space, astronauts lose the sense of up and down, which results in disorientation and motion sickness. When returned to Earth, they suffer from balancing problems. Space adaptation syndrome (also known as space sickness) causes nausea, vomiting, vertigo, headaches and lethargy.
WHEN SOLAR FLARES OCCUR,
THEY HAVE TO TAKE
IN HEAVY SHIELDED PARTS
OF THE ISS TO REDUCE
EXPOSURE TO RADIATION.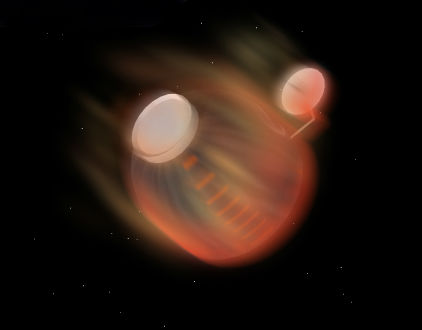 Some negative effects of living in space disappear as soon as an astronaut lands on Earth. But depending on the time spent in space, it becomes more difficult to recover from long-term consequences.
STATE OF ASTRONAUT HEALTH
Upon landing on Earth, astronauts' spines begin contracting instantaneously with gravity and they return to normal height pretty quickly. Their blood pressure also normalises in a few days. Excess flatulence is no longer an issue.
Disorientation and balancing issues, as well as motion sickness symptoms, disappear. Astronauts' sleep is back to normal, and usually they start sleeping two more hours than normally in space.
The immune system recovers greatly, the risk of sickness owing to space-weakened immunity decreases and functional characteristics are back to normal. The production rate of red blood cells is within the norms again. One fifth of the body fluid lost during the spaceflight is regained, along with the volume of blood.
The muscle reformation is almost complete and near the levels of pre-spaceflight.
Three months
after arrival
The immediate problems related to eyesight, especially proneness to cataracts is over. Skin redevelopment is complete and their body mass is back to the levels on Earth.
Six months (and more)
after arrival
Spending six months in space is brutal on human bodies. The effects of skeletal deformation last for years, and it takes three to four years to regain lost bone density. The risk of bone fractures will remain high for the rest of the astronauts' lives. Although the ISS is being protected by Earth's magnetosphere, which greatly shields the astronauts from fatal galactic rays, the exposure to radiation is still too high. The trio will be susceptible to increased risk of cancer, central nervous system effects and degenerative diseases for years, if not a lifetime.
The ISS is crewed with six people for most of the year. A round of three astronauts and cosmonauts arrive in the space station every six months with an overlap of three months to work together with the previous trio.
Tim Peake
British astronaut
Expedition 46-47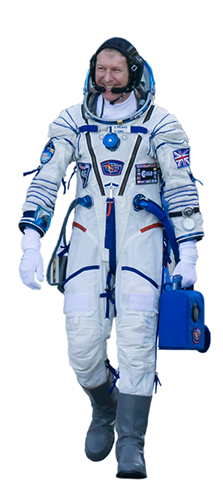 SERVING TIME IN SPACE
186
days
TOTAL TIME SPENT IN SPACE
186
days
TOTAL HOURS OF SPACEWALK
4h43'
Yuri Malenchenko
Russian cosmonaut
Expedition 46-47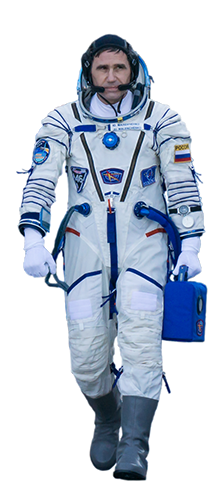 SERVING TIME IN SPACE
186
days
TOTAL TIME SPENT IN SPACE
828
days
TOTAL HOURS OF SPACEWALK
34h52'
Timothy Kopra
American astronaut
Expedition 46-47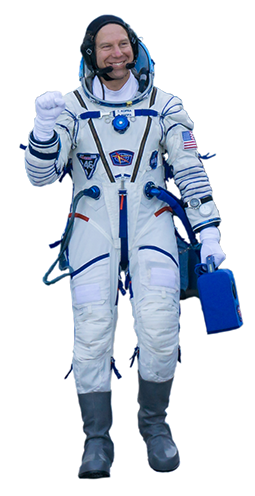 SERVING TIME IN SPACE
186
days
TOTAL TIME SPENT IN SPACE
244
days
TOTAL HOURS OF SPACEWALK
13h31'
As Timothy Kopra, Tim Peake and Yuri Malenchenko of Expedition 47 complete their mission on June 18, the remaining trio of Aleksey Ovchinin, Oleg Skripochka and Jeffrey Williams will assume the Expedition 48, and they are to be joined by another round of astronauts and cosmonauts on July 7.
Aleksey Ovchinin
Russian cosmonaut
Expedition 47-48
SERVING TIME IN SPACE
170*
days
TOTAL TIME IN SPACE
170
days
TOTAL HOURS OF SPACEWALK
-
Oleg Skripochka
Russian cosmonaut
Expedition 47-48
SERVING TIME IN SPACE
170*
days
TOTAL TIME IN SPACE
329
days
TOTAL HOURS OF SPACEWALK
16h40'
Jeffrey Williams
American astronaut
Expedition 47-48
SERVING TIME IN SPACE
170*
days
TOTAL TIME IN SPACE
522
days
TOTAL HOURS OF SPACEWALK
19h09'
According to conservative estimates, the first human expedition mission to Mars is expected to take place by the mid-2030s. With the current space technology, a one-way trip to Mars would take about five to six months, which is more than double that on a round trip. NASA estimates that a mission to Mars would take about 30 months in total.
While the average time spent for an astronaut in the ISS is about six months, Russian cosmonauts are record holders at living in space for the longest period uninterrupted, and for spending most days in space on a cumulative scale.
Valeri Polyakov spent 437 days in low orbit between January 1994 and March 1995 when he was serving on the now-defunct Russian space station MIR. He was a part of the experiment to assess the long-term physiological and psychological effects of living in microgravity for a prolonged period of time. The findings were used to assess the potential challenges for manned missions to Mars.
Gennady Padalka, another Russian cosmonaut, is the record holder for spending the most time in space with 879 days over five missions. He served on the MIR and the ISS.
In 2015, the United States and Russia launched a research programme called One-Year Mission to assess the feasibility of a mission to Mars and beyond. American astronaut Scott Kelly and Russian cosmonaut Mikhail Kornienko spent almost a year in the ISS and successfully returned to Earth after spending 340 days in space.
Research and text
Sources and images
NASA, ESA, Flickr Creative Commons
Design
Production