Basuki's men are resting for a moment in the shade of a wooden shed. There are some hammocks, a gas burner for making coffee and an open air shower. A few metres away, pots are lined up. They hold the seedlings of trees. "This is our plant nursery," explains Basuki. This is where we look after the trees that will repopulate the forest that burned down."

"The fires come back every year, especially from September onwards, in the dry season. And the fire keeps burning even when it seems to be extinguished, because it's burning underground, in the peat," Basuki says. "When the fires come back, we work restlessly to extinguish them. At night, we take turns sleeping a few metres away from the flames; sometimes someone can lose their life, suffocated by the smoke. In times of respite we plant the trees back into the burnt areas instead, and prepare for our next battle."

Basuki spends most of the year in the jungle of Central Kalimantan, coordinating the interventions against the fires and various reforestation projects. His salary allows him to fly twice a year to see his wife and two children, who live in the Indonesian capital, Jakarta.

---
Indonesia in flames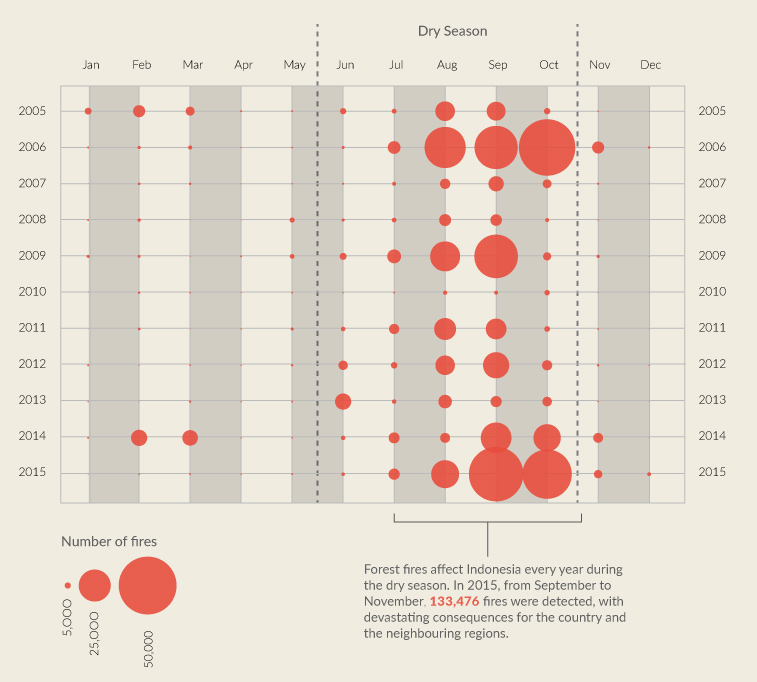 Source: Global Fire Data
---
From September to October 2015, Indonesia was the scene of one of the most disastrous fires in recent years. Burning unabated for weeks, the flames affected more than 2.6 million hectares of forest, mainly in the islands of Sumatra and Kalimantan. Enormous clouds of smoke made it to Malaysia, Singapore and Thailand, with toxic gases inhaled by at least 43 million people. The Indonesian Agency for Meteorology, Climatology and Geophysics called the fires a "crime against humanity of extraordinary proportions".

The most authoritative theories blame the fires on individuals interested in the acquisition of new lands – including some companies that produce palm oil – and on farmers who use the fire to prepare lands for cultivation. The dry season and the prolonged combustion within the vast peat stretches make extinguishing operations even more complicated.
---
Almost all fires detected in Indonesia are caused by mankind to prepare the lands for farming.
---
"Almost all fires detected in Indonesia are caused by man for farming reasons. A fire is the cheapest way to empty out the land for agriculture. Fires can be ignited by individuals who control vast plantations, or small farmers working in their own parcels of land with traditional methods," explains Peter Holmgren, the director of the Centre for International Forest Research (CIFOR), which is based in Bogor, near Jakarta, and researches tropical forests.

In Indonesia, according to Global Fire Data's estimates, more than 130,000 fires were detected in 2015 alone, producing almost two billion tonnes of greenhouse gases. That is more than the total produced by Germany or Japan in a year.

Forest fires are a global problem. "According to Nasa and to the Global Fire Database, an average of 4.5 million hectares of rainforest go up in flames every year," explains Guido van der Werf, an Earth and life sciences researcher at the Free University of Amsterdam. "Almost all fires in tropical areas are caused by mankind."