The journey of an Israeli woman
Reporting by Creede Newton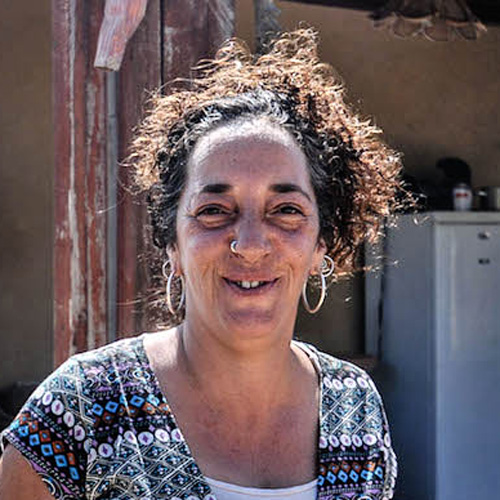 Tehila Cohen
Israeli
woman
Neve Erez Settlement
Occupied West Bank
Total time: 0:58:00
Total distance: 29km
Average speed: 28km/h
Journey successful
Tehila is in need of
dental work in Jerusalem
Tehila Cohen, 48, a founding resident of Neve Erez - an unrecognised Israeli settlement in the occupied West Bank - is travelling for dental work and a basic health check-up in Jerusalem.
Atop a hill overlooking Jerusalem, Cohen and her husband, Noam, live off the land. They organise festivals and have a campsite on the settlement grounds as a source of income. Their hilltop homestead is a renovated caravan complete with a wood-burning stove.
Cohen grew up in a left-wing family near Tel Aviv. She does not consider herself "secular", but takes a relaxed view towards religion, describing Jewish holy texts as "the instruction manual that comes with the washing machine. It's a guide, but I don't have to follow everything." She does believe that the West Bank belongs to the Jewish people: "God gave us this land on a silver platter in 1967, and what have we done with it? Politicians have left it [in limbo] due to international pressure. For 40 years, they haven't decided whether it belongs to Israel or not."
10:55 am
Cohen begins driving down the road that snakes from Neve Erez towards Jerusalem. "I hate leaving the house; the traffic on the road to Jerusalem has been so crowded recently."
Passing by a roundabout at the bottom of the hill, Cohen expresses her desire to separate Palestinian drivers from their Israeli counterparts in the West Bank: "At the roundabout, we go right, and they go left. Left is Ramallah, and we never go there, so why not build another road for the Arabs? There would be less cars."
11:17 am
Cohen parks her car in Pisgat Ze'ev, a settlement in the West Bank.
"The traffic was light today; we're lucky," she says, pulling her hatchback into a free spot. She says she debated driving to the centre of Jerusalem but decided against it. "It costs too much to park in the centre."
11:30 am
Cohen boards Jerusalem's light rail, a tramline that connects East and West Jerusalem. The tram began operating in 2011 and offers a comfortable, air-conditioned, modern means of transportation. The trip from Pisgat Ze'ev to Jerusalem's city hall, close to the Old City, takes 22 minutes.
11:53 pm
Cohen takes a short walk to the Jerusalem Health and Community Service Centre, a local clinic specialising in dental treatment that also provides general medical check-ups, eye care and hearing tests for low-income families. Cohen's appointment is wrapped up in under an hour.
She recounts her shopping list for the upcoming holidays, but decides a trip to the Old City would take too long. "But you can walk," she told Al Jazeera. "It's only 10 minutes from here, and this part of Jerusalem is so beautiful."
Total time: 0:58:00
Total distance: 29km
Average speed: 28km/h
Journey successful