arhan Saeed hops across a long run-up on his right leg with support from a crutch on the left and sends a quick delivery to the awaiting batsman, who balances himself with his bat and one leg before launching into a shot.
Saeed, a key member of the Pakistan disabled cricket team, lost the use of his left leg to polio at the age of two. What he didn't lose, however, was his passion and hope to become an international cricketer.
"This game is very difficult, especially for the disabled.
"But we consider ourselves better than normal people and tell them to learn from us."
Farhan Saeed - Disabled cricketer
"I loved playing cricket. At the age of 14, I used to play on the streets."
The journey to global recognition has been more arduous for physically disabled cricketers than their visually impaired counterparts. A major hurdle has been the classification of various physical disabilities and subsequent team formation.
Disabilities can range from the loss of a finger or toe to the loss of a limb, thus making it difficult to evenly match competing teams.
"My family used to discourage me from playing cricket.
"But ever since I started playing for the national team, they've told me not to stop."
While a number of countries have been participating in disability cricket internationally, the game suffers from a lack of global recognition. This is partly because most national bodies are not governed by their countries' ruling cricket boards. International tours and bilateral series have become more common over the years but these haven't yet culminated in a global event like a World Cup or T20 championship for the sport.

This form of cricket keeps the rules of the game as close to the MCC cricket rulebook as possible. No major modifications are made to the overall outlook of the game,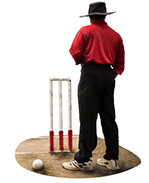 unlike in blind cricket, but some degree of relaxation is allowed in terms of runners for batsmen or bowling actions for players with severe disabilities.